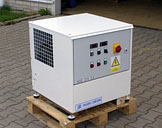 There is several ways how to obtain cold water, but the mechanical cooling is most preferred way.
Efficient and reliable cooling allows increase productivity and life cycle time of a manufacturing devices and lower cost of production processes. Water is a valuable natural refrigerant, and its price continues to rise. JDK chillers WHE, WDE, WTE are therefore working with closed water cooling loop.
Product Design
WHE are portable series of the JDK block air cooled chillers with capacity up to 4kW. The unit is working with coil pipe evaporator dipped directly in to a tank with cooled liquid. Applicable for cooling of oil and dirty cutting lubricants or for production of ice water. Very easy installation as plug & play, fully automatic control according built in electronic thermostat. 
WDE-S1K are compact JDK air cooled chillers up to 43kW. Box shape unit with plate evaporator and built in water accumulator tank including liquid pump. Applicable for indoor or outdoor placement. Filled with refrigerant, ready to run. Ideal as a replacement of a cooling loop with tap water. Easy installation and commissioning, refrigeration specialist is not required.
WDE, WTE JDK chillers units up to 800kW of cooling capacity manufactured with built in or remote condenser. Customized units are available for cooled liquid up to -30°C. Full control with PLC system and remote diagnostic via Internet. Professional installation, commissioning a user training by JDK certified technician.
Tips for you  
Do not waste money - strict regulations about environmental and water protection are focused on quality of wasted water. Closed chilled water system greatly simplifies the implementation of this requirement!
Free of charge recover heat for your production area. With clever placement of JDK compact chiller series WDE-S1K can be waste heat routed during winter to a interior. At the summer heated air is routed via flap outside of building.
Delivery Scope
The chillers series WHE and WDE-S1K are supplied with refrigerant charge. Each unit is tested and adjusted in production. For units series WDE, WTE with remote condenser JDK offers professional installation and commissioning at customer including customer training. All JDK chillers are delivered with freezing protection device.
Optional Accessories
Built in accumulator tank (open or pressure type)
Low level indication of coolant in accumulator tank (for open type only)
Automatic water filling in to accumulator tank (for open type only)
Built in circulation pump
Expansion vessel (for pressure system only)
Remote alarms indication
Remote monitoring
Special options according customer request
Installation and Operation
The WHE units are supplied with an electric cord and plug, so commissioning the unit does not require professionally qualified staff. The WDE-S1K compact units are supplied filled with refrigerant and functionally tested in manufacturing. Before unit starting it is necessary connect unit to a chilled water distribution net and hook it up to an electrical power. Installation and commissioning of WDE and WTE units with remote condenser must be done with certified personal.
Unit Selection
For proper chiller selection you need to know: required outlet temperature, type of cooled liquid and cooling capacity. For correct selection of circulation pump it is necessary to know external pressure drop at nominal water flow. For more details see related JDK product documentation below. Do not hesitate to contact us for help with units selection.
For more JDK product documentation please see here.
Dokumenty ke stažení
WDE-S1K Series Compact Chillers (CT120, 633kB)
Chillers WTE Series - lefleats (PR110, 120kB)
Chillers WHE Series - lefleats (PR130, 62kB)