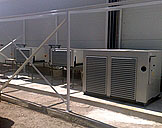 We offer proven JDK Warehouse Cooling Kit for cooling and freezing temperatures from +10 to -30°C.
Cooling and freezing technologies differ from each, particularly with type of evaporator, used compressors, insulation materials and wall thickness of the box.
Evaporators for freezing rooms must be equipped with defrosting system (electrical or hot gas).
What we Offer?
Delivery of cooling technology for your refrigerated room. Delivery includes:
Condensing cooling unit
Electrical control box
Evaporator(s) for refrigerated rooms
Necessary components of refrigeration circuit
Optionally monitoring system and remote access
Installation and commissioning, user training
Warranty and regular service
Periodic refrigeration system checks according European Parliament and Council Regulation (EC) No 842/2006 about F-gases (Article 3, paragraph 6) and the Czech law No. 483/2008 about environmental protection
In case of non standard inquire we are ready to support you with customized cooling technology. We will be glad to serve you and prepare special offer according your specification.
Tips for you  
Savings

 at storage of agricultural products can be achieved by choosing the optimal storage conditions. The recommended storage temperatures for fruit and vegetable products see here.

Quick

 guide for JDK Warehouse Cooling Kit selection you can find here.

Solution

 of refrigerated and freezing rooms is simple with using of JDK CPC type control boxes.

Proven

 and well balanced JDK Warehouse Cooling Kits for your refrigerated rooms see here.
Product documentation
Condensing Units JLE-EVI Series - lefleat (PR005, 76kB)
Catalog of JHE, JME, JLE units (JDK-KnJ, 4186kB)
Selected references
Quick selection table, filled with performance data (PD001, 177kB)
Condensing Units JHE, JME, JLE Series - leaflet (PR001, 1397kB)