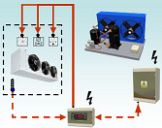 Condensing unit, control box and evaporator are main components of the cooling kit assembly.
Components of warehouse cooling kit are thoughtfully selected and their capacity is well balanced.
Customer will always receive well proven and reliable cooling solution for warehouses, freezing rooms or food processing rooms up to 400 square meters size.
Product Design
The warehouse cooling kit is supplied as separate modules. Condensing units and control boxes are designed and manufactured by JDK company.
Tips for you  
Free of charge

- recover waste condensing heat to heat up water. JDK offers a heat recovery kit for condensing units as an optional accessory. For more info see Heat Recovery.
Saving up to 30% energy consumption compared to a standard unit can be achieved with JDK units JLE-ZF-EVI for freezing applications. For comparison of ZF-EVI scroll compressor parameters see here.
Delivery Scope
The warehouse cooling kit contains condensing unit, electrical control box with electronic thermostat, expansion valve and evaporator. For freezing applications is part of technology also liquid solenoid valve.
Optional Accessories
Compressor oil heating
Built-in filterdryer and sight glass
Fan speed control
Outdoor housing
Special options according customer request
Installation and Operation
During installation is necessary to connect the refrigerant circuit and electrical components. Prior technology startup must be electrical circuit checked for safety by certified person. For installation in Czech please refer to standards CSN 33 1500 and CSN 33 2000. Before commissioning a unit operational test according EN378-2 must be performed and documented. Installation and service must be done only by company certified person. We will be pleased to arrange professional installation and service for you.
Warehouse Cooling Kit Selection
For proper selection of cooling kit are essential parameters are internal volume (cubic meters) and required temperature of cooled room. For more details see related JDK product documentation below. Do not hesitate to contact us for help with kit selection.
For more JDK product documentation please see here.