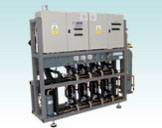 Easy unit cooling capacity modulation to actual needs. Units are available for capacity from 8kW up to 750kW.
Compressor pack units are frequently applied for chain stores, logistic centers, butcher shops and meat-processing plants.
Advantage of those units is variable cooling capacity and the energy saving operation. The units well fits for A/C systems with direct expansion.
Product Design
Compressor packs series R are manufactured for outdoor use and units series I, S, M are designed for indoor applications. On common steel frame are in parallel connection 2 to 14 Scroll or semihermetic compressors. Compressor pack is designed with oil return management device i.e. oil separator, oil strainer and oil level control for each compressor. Units are supplied with electrical control box with built in unit controller.
Tips for you  
Free of charge - recover waste condensing heat to heat up water. JDK offers a heat recovery kit for condensing units as an optional accessory. For more info see Heat Recovery.
Subcooler (economizer) provides additional cooling power increase and energy savings due liquid refrigerant subcooling. Well applicable for low temperature (LT) units. Feasible only if partial cooling capacity from medium temperature (MT) unit in place is available.
Saving up to 30% energy consumption compared to a standard unit can be achieved with JDK units JLE-ZF-EVI for freezing applications. For comparison of ZF-EVI scroll compressor parameters see here.
Delivery Scope
Compressor pack units is supplied as a standard on steel frame with fitted and connected compressors and incorporated oil management system. Also mounted is HP/LP safety pressure device, suction filter and insulation ball unit valves. Outdoor R series units are supplied with mounted air cooled condenser, receiver tank and housing. Both R and I series units are manufactured with built in electrical control box. Units series S are supplied with remote control box. After a leak test unit is filled with holding charge of inert gas.
Optional Accessories
Compressor oil heating
Type of control system (i.e. Elliwell, Danfoss, …..)
Compressor cylinder capacity control (semihermetic only)
Compressor start up unloader
Subcooler – cooling capacity increase by liquid refrigerant subcooling
Receiver tank with safety valve and liquid level sensor mounted
Heat recovery kit (water heating)
Remote monitoring
Air or water cooled condenser (for S and I series only)
Condenser fans speed control
Back up unit control system
Special options according customer request
Installation and Operation
Refrigerant circuit layout must always comply with the approved project prepared by an appropriately qualified person. Attention to proper suction line insulation is also important – energy consumption will be reduced and unit life time extended. Before commissioning a unit operational test according EN378-2 must be performed and documented. We will be pleased to arrange professional installation and unit service for you.
Unit Selection
Compressor pack units are available in following basic versions:
IME, ILE, IBE – indoor application, with integrated electrical control box
SME, SLE, SBE – indoor application, with remote electrical control box
RME, RLE, RBE – outdoor application, with integrated condenser, receiver tank and electrical control box
M – Medium evaporating temperature range
L – Low evaporating temperature range (freezing)
B – 'Booster' – combination low and medium unit version on one unit frame
For proper compressor pack unit selection you need to know: required cooling capacity and the evaporating temperature. For more details see related JDK product documentation below. Do not hesitate to contact us for help with units selection.
For more JDK product documentation please see here.
Dokumenty ke stažení
Compressor Packs S Series - lefleat (PR040, 147kB)